What happened here?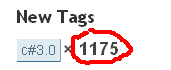 Was it a retag? (I couldn't find any [retag-request] about this.)
If it's the result of a retag, shouldn't the tag rather be [c#-3.0]? This format seems to have become the canonical "language version" format (see the existing tag synonyms).
On the other hand, the other C# version tags like [c#2.0]) also don't contain a hyphen.
Should the tags for special C# versions be hyphened, or not? Is [c#x.0] preferable, or should [c#-x.0] be used, which would be consistent with other languages?