Many sites change their temporary site icons to something more interesting, e.g. Chess.SE uses a rook. From Chinese.SE:
... if you have a unicode symbol, we could use that instead of the "Cn". For example, before it got a site design, the Anime site's logo was the Kanji for anime. ... Catija ♦
And judging from Chinese.SE meta's votes, it looks like Chinese.SE strongly favors 漢 rather than the current "Cn".
However, the example I'm particularly interested in is Islam.SE where we're currently discussing this, and probably the least problematic would be the Kaaba. I made a mock up below (to illustrate my mental picture):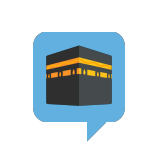 While the Kaaba is a Unicode symbol 🕋, it displays differently on different devices. Also I'm concerned that Stack Exchange uses a kind of "sky blue and white" theme for sites without their own icon, and this might violate that theme.
We haven't made a decision at Islam.SE yet, and there are other possibilities (although nobody has objected to the Kaaba, which is a good sign it's a sensible choice), but it would help us make a decision to know what is possible and what is not.
Question: What Unicode symbols are possible as a temporary site favicon?
I'm particularly worried that either technical or design concerns will mean a "flat no" for some possibilities. In which case, it's pointless discussing it on the relevant meta site. I could imagine something like the Kaaba being impossible for those reasons or some other reason I haven't foreseen.
---
I don't feel this is the question same as What are the requirements for a (beta) site logo?. I'm particularly focused on the choice of Unicode symbol (I edited to make this more apparent), whereas the other post talks about "pixels", etc., which don't directly enter into this question. Furthermore, unlike the other question, I'm talking about the temporary logo: the one we use prior to getting a designed site.